Off-pump bypass surgery, also known as beating heart surgery, is performed on a beating heart. Instead of placing patients on the heart-lung machine like in traditional (on-pump) bypass surgery, beating heart surgery uses special devices that position the heart and stabilize the area where the surgeon is working while keeping the heart beating during the procedure. All women are candidates for beating heart surgery.14
Women Donít Fare As Well As Men with On-Pump Surgery
For reasons that are not completely known, women do not fare as well as men with traditional bypass surgery.9-16 Compared with men, women who undergo the on-pump procedure experience:
More complications, such as stroke and heart attack15-20
Mortality rates two to three times higher overall and four times higher at ages 40 to 59 21
Slower recovery after surgery22
For these reasons, being a woman classifies you as a high risk patient for traditional bypass surgery, and itís important to know that you have an option.23
Beating Heart Surgery May Be a Better Option for Women
Overwhelming evidence shows that women treated with beating heart surgery have significantly better outcomes, including reduced risk of death, stroke, heart attack and other complications.24,25,26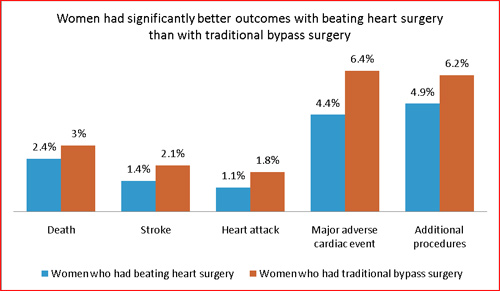 Source: Puskas JD, Edwards FH, Pappas PA, et al. Off-Pump Techniques Benefit Men and Women and Narrow the Disparity in Mortality After Coronary Bypass Grafting. Annals of Thoracic Surgery 2007;84:1447-56
Furthermore, beating heart surgery provides faster recovery time27 and eliminates major complications associated with traditional bypass surgery, resulting in:
In addition to women, high-risk groups also shown to benefit from beating heart surgery include people with:42
More severe CAD (e.g., three-vessel or left main CAD)
Multiple health conditions

Diabetes
High blood pressure
Kidney failure
Chronic obstructive pulmonary disease (COPD)

Poor overall health
Older age (65 years of age or older)
If you or a woman you know needs bypass surgery for CAD, you can use this site to locate a beating heart surgeon near you. Remember, you only have one heart Ė treat it right.